Our Latest Immigration Success Stories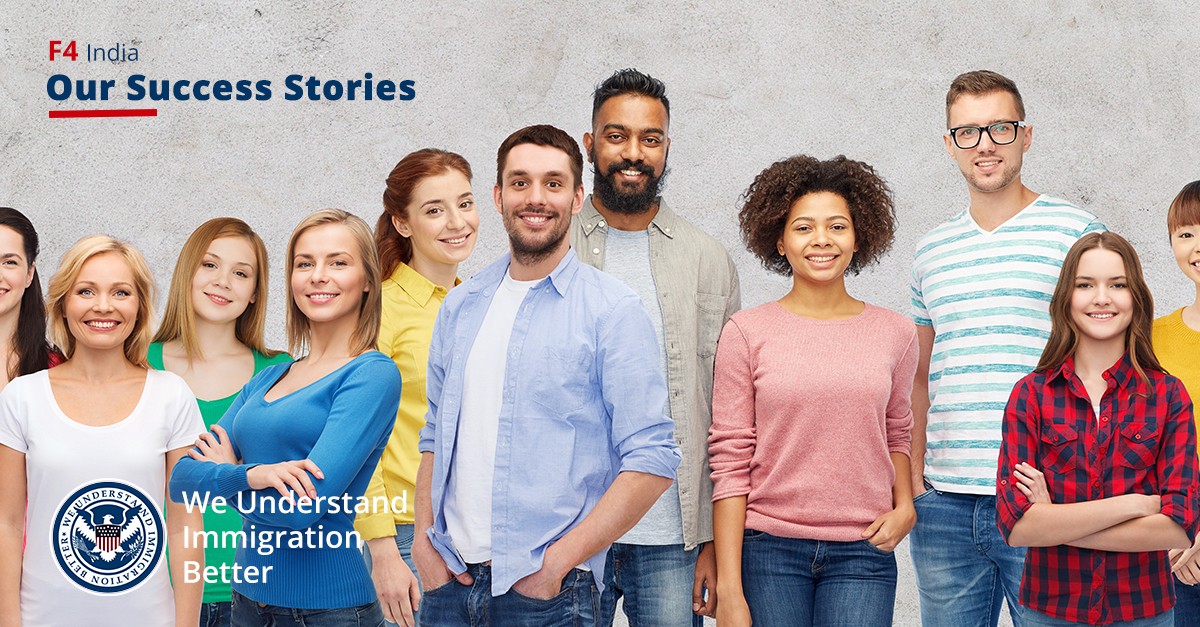 Success Stories
Our publication team posts a few stories to celebrate our immigration success stories every month and offer some comfort to those who will soon embark on a similar immigration journey. Below, you'll read just a few immigration success stories that hundreds of F4 India's clients have experienced. Our attorneys are experts in immigration law and have a long track record of giving clients the tools they need to live and work in the U.S. If you want to be one of our many immigration success stories, Kindly feel free to contact us .
The benefits of using our immigration lawyer for your visa
The procedure for applying for a Immigration and Non-Immigration visa is complex, and rife with potential pitfalls. We know which strategy to take with your visa application and how to communicate your case clearly to USCIS to give you the best possible chance of a successful application. We can clarify what is required to complete your U.S Visa application, saving you time and money in the long term.
Access to knowledge is access to justice
Our team personally motivated to fight for our clients and work for them to achieve their U.S dreams. Speak to our immigration attorney to help you to resolve your visa issues. We want your visa petition to be as strong as possible.
If you are overseas please email us.
Based in India and U.S.? Call us with your concerns to see how we can work with you.
This Week's Success Story: Humanitarian reinstatement of Visa Petition I -130 got approved, after the death of Petitioner.
Applicant approached our team of F4 India Consultants after one year of the death of their petitioner (Father). The I- 1-30 category F3 was revoked by the USCIS. Applicants mother was a US Permanent resident from the last 18 years but never applied for Citizenship as she had doubt that she will not be able to get it because of poor knowledge of English language. Our Attorneys analyzed the case and came up with a strong strategy they applied for Humanitarian reinstatement immediately and simultaneously filled for mother's US Citizenship, all her interviews were arranged in her native language and English Interview was waived off. Soon Mother got the Citizenship and became eligible for being a substitute sponsor. The request for Humanitarian was approved by USCIS, though it took a long time (approx. 12 months) but we made it happen through our correct approach, continuous follow up and by providing timely updates and documents required by USCIS to make a decision on the case.
---

IMMIGRATION ARTICLES
Recent Posts
U.S. Immigration Resources
Other General Articles