Importance of Retaining an Immigration Attorney for the DS-260 after getting the welcome letter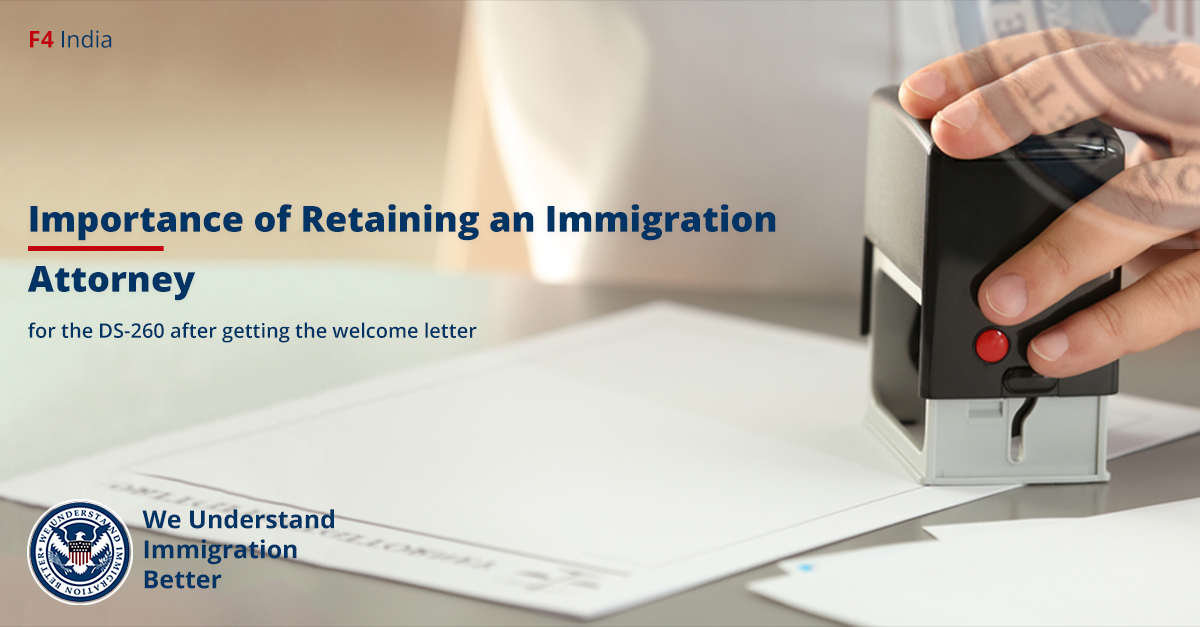 Importance of Retaining an Immigration Attorney for the DS-260 after getting the welcome letter
The famous saying goes, "Proper preparation is half the success." It is much easier to assemble the necessary documents, birth certificates, tax documents, personal details, and other police verifications while at home than do it from across the ocean.
Hiring an immigration attorney is not always essential, but there are some situations where hiring an attorney is strongly recommended. For example, an immigration attorney monitors constantly changing rules and laws, knows clients' serious mistakes, and is always up to date with any news particular to your petition category.
Filling DS-260:This process can be completed by someone representing themselves. However, working with an attorney fully aware of all current immigration laws can significantly reduce the risk of mistakes or errors and costly delays. Mostly, applicants hire an immigration attorney when they would like assistance submitting DS-260 with other civil and tax documents for green card processing.
A Child under the Age of 21: Eligibility for permanent resident status differs based on the immigrant's age, and requirements are different for children under 21. Suppose the applicant is coming with their family, and their child might reach the age of 21 before being granted permanent resident status. In that case, an immigration attorney can provide advice regarding the best method for filing for children of applicants.
How Can an Immigration Attorney help with filling DS-260 in the Immigration Process?
An immigration attorney will be most up to date regarding the recent changes in the DS-260 immigration process as a result of COVID-19. As such, an experienced immigration attorney will make sure that you correctly follow the latest laws and DS-260 procedures on immigration. An immigration attorney will also be able to help you navigate around some of the current processes that have become delayed due to the COVID-19 pandemic. The national visa centre follows the Documentary Qualified dates for applicant's interviews processing.
Here is an example to understand why an attorney is essential when you receive your welcome letter. Mr. X and Mr. Y has the same priority date and year, but Mr. X has decided to file himself, and Mr. Y hired an attorney for his case processing, now Mr. X is spending more and more hours on google and social network sites to find out the status of his welcome letter and how to file his DS260
Mr. Y followed his attorney 's directions and started collecting the documents from his petitioner and his birth certificates, etc. Mr. Y's attorney received the welcome letter one month before Mr.X because lawyers could get the welcome letters faster. Mr. X's attorney quickly filed his DS260 because his attorney was ready with all the necessary documents in handy.
Another side Mr. X is still waiting for his welcome letter, and once Mr. X gets the welcome letter and required list of documents, he will start the procedure. If Mr. X missed any document or made any error, the NVC will not qualify his documents, and he will restart the process again.
Mr.Y will get the Interview Letter faster than Mr. X because of his Attorney work.
An experienced attorney knows how to handle the immigration process before they become an issue. Experience at the NVC stage of the consular processing stage matters as, generally speaking, each checklist can cause a delay of 30-60 days.
Working through the challenges of the NVC can be exceptionally frustrating, and if not handled properly, can cause significant delay. For example, an applicant must submit an online DS-260 application and other identity and financial documents to complete the NVC process. An experienced attorney reviews all of the applicant's responses to the DS-260 application to ensure completeness and to confirm no visa ineligibility exists. Furthermore, if a document requested by the NVC is not provided, or if the I-864, Affidavit of Support, is not adequately completed, such incomplete submissions further delay the processing as the NVC will continue to request the documents needed until complete.
---